Welcome To LBE++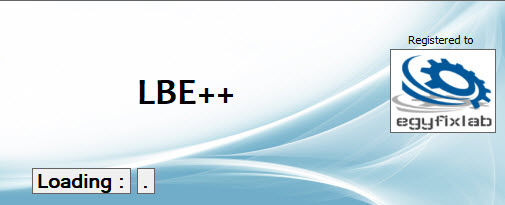 Whats is LBE ?
LBE is aprofessional Software For all Bios Modification - Bios Extraction - secuurty Unlock - Auto ME Cleaner - Bios Utilities - Bin Dump cleaner ... and many More Features
Simply LBE is Tons of Professional Solutions in one Excutable Files
we are proud now Our LBE Software is being used in over 160 countiries with Alot of Professiona User and companies used it in wide range of support now
why LBE ?
when you have this magic Power and this professional Key of success then what else you need ?
why LBE++ is better than 1.5.3 ?
stable ver - in time support - Alot of auto Professional technologies - Tons of new Features added
- auto update
why LBE++ is yearly membership
to help us keep providing professional Update and Professioanl Support for Companies and for our customers - we appreciate and we understand your needs - so help us make it real and catch it in your hands in fastest Time and with direct Support
Warning !!!
if you already LBE user ( have LBE already ) then Just Upgrade to your desired Plan or use Basic Free LBE++
if you are new User then Pay for Standard Ver First then you can click Upgrade in any desired Plan
LBE++ Labels Properties
LBE

Standard

Label

New User

135 $

(

new user must Pay - Old user no

)
Upgrade

25$

/ Year
Features
1-
All Bios Extractor
2-
Bios Plugins
3-
EC Extractor
4-
ME auto Clear
5-
_Apple EFI Unlock
6-
HP security unlock till 8th
7-
Security Hash generator
8-
Sony Bios Extraction
9-
HP DMI Editor
10-
Special LBE++ Hex Editor
11-
Fujitsu Dump Cleaner
12-
Bios Repair Tools
13-
UEFI Comparator
14
Dell Generate Bios bin File
15
Dell Repair Corrupted Bios bin
16
ME Swapper
17
Bios Seperator and Replace tools
18
Bios Utilities
19
Remove DELL Computrace
20
old Password Decryptor
21
ME Encryptor
22
Free Password Dump cleaner
23
some Free Password Generator
many other Functions ...

New User

(if you not have LBE)

Old User

LBE

RED

Label

New User

135 $

(

new user must Pay - Old user no

)

Upgrade

135 $

/ Year
Features
1-
include all Standard Label feature
2-
Advanced Bios Plugins
3-
EC Professional Extractor
4-
ME auto Clear
5-
Professional ICloud cleaner
6-
Professional Computrace Remover
7-
Unlock All Surface
8-
Can Decrypt some surface passwords
9-
Use HP Super Editor
10-
Auto NVRAM Rest
11-
Unlock E7A8 by Dump cleaner
12-
widely Dump security cleaner
13-
Bios Region Editor
unlock all HP all GEN
many other Functions ...

New User

(if you not have LBE)

Old User

LBE

Green

Label

New User

135 $

(

new user must Pay - Old user no

)
Upgrade

250 $

/ Year
Features
1-
include all Standard Label feature
2-
include all RED label Feature
3-
unlock Panasonic
4-
unlock all surface
5-
support all HP unlock
6-
support DELL 8FC8
7-
Support DELL E7A8
8-
Support Lenovo advanced Patcher
9-
Support apple ( EFI - icloud - SN - ) till 2017
10-
support all Dell Service TAG
11-
support HP SN Editor
12-
Samsung advanced extractor
in time Support
many other Functions ...

New User

(if you not have LBE)

Old User